i contacted the company and can still get these headers.
the email response is as follows:
"We do still have tooling for our THY-513Y-C headers. You already know that we do not stock these headers any longer due to the low demand for them. Like you suggested though, if the demand was created in a group buy scenario we would manufacture them again.
In order to allow me to release a manufacturing order to run the headers, I would need to have definitive interest from a minimum of 15 customers. By definitive, I mean that I would need to have orders placed with credit card numbers held until the headers are ready to ship. We would then of course contact all customers to inform everyone that they are shipping & cards will be charged.
We can do the headers for $399 each. Let me know what you think."
UPDATE
"Yes, the header are CARB exempt under EO #D-200-7
What would probably easiest, and most secure for everyone, is once you get above 10 (remember, I can justify manufacturing them to the owner until I hit 15 minimum) people email me a list of names with contact information. We will then contact everyone to get complete contact information & payment details"
here is a picture of said header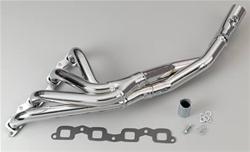 They come Silver Ceramic Coated, and are 14 gauge mild steel with a 3/8" flange which is their standard for 99% of their headers.
so please respond to this thread and I will make a list of people to see where were at and will relay any messages i get from them
thanks.
1.Nathan 82te72 HR/3tcgarage
2. Gabe Nudriftr HR
3. daniel
4. rich
5. adam
6. eric
7. gordon
8. Tayrolla
9.
10.
11.
12.
13.
14.
15.
feel free to post anywhere else to so we can try to get as much interest as possible.